Business Signs, Monument Signs, LED Sign Board, & Channel Letter Signs in Hockessin, DE
Sign Company Serving Hockessin, DE, and the Surrounding Areas
When you need a sign for your organization or business, look no further than Brand It Signs and Graphics. They can make a wide variety of business signs, pylon signs, monument signs, channel letter signs, and they even do carved signs as well as LED sign boards. If you can imagine it, they can make it for you. Make Brand It Signs and Graphics your go-to sign company in Hockessin, DE.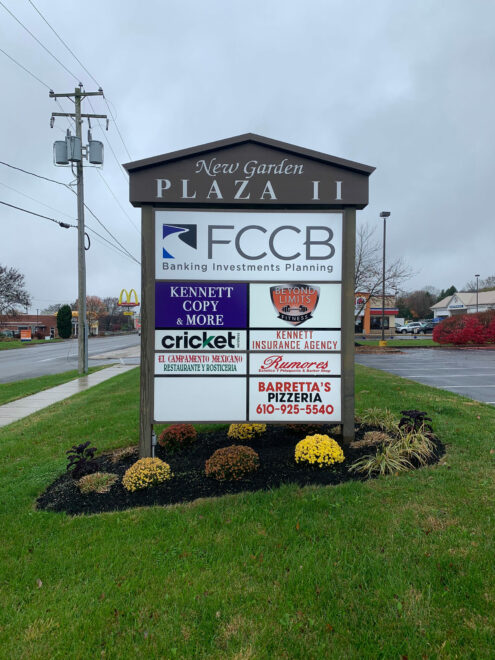 Pylon Signs and Monument Signs in Hockessin
If your business or organization is located in a commercial strip building, odds are that as part of the advertising for the building there is a monument sign somewhere out front along the busy roads. You will need to have your organization name added to this monument sign, and Brand It Signs and Graphics can get that done. Or maybe you are refurbishing an existing commercial building, and you may be limited in the height of the sign you can have. Monument signs are commonly accepted so you can still have advertising on the busy roads near your building. If you are lucky enough to be able to put up a taller sign, pylon signs are the perfect answer. They advertise your business so that people from long distances can see where you are located. Give Brand It Signs and Graphics a call or contact us online to discuss your options.
LED Sign Board and Channel Letter Signs in Hockessin
Sometimes you might want to have a changeable sign where you offer up different messages. Perhaps you have a daily special at your restaurant, or you may offer a special deal at the grocery store. In these instances, having an LED sign board is perfect because it can offer rotating messages for your customers and anyone passing by that might be interested. And don't forget to have your organization name on the building so people know they are in the right place. Channel letter signs are very common to have on buildings, and are usually backlit so that they can be seen in the dark as well.
Sign Company in Hockessin, DE
Whether you need a carved sign for a unique look for your business, or you want to go high tech and get an LED sign board, Brand It Signs and Graphics is ready to serve your Hockessin organization with the right sign options for you.
Hockessin came into existence as a little village in 1688 when several families settled in the area. There was no town name Hockessin and the area was referred to as Mill Creek Hundred. The actual name is believed to be derived from one of the first settled properties which was named Ocasson and settled by William Cox in 1726 and also the location of the first Quaker meetings in the area before Hockessin Meeting House was built a few years later.
Give Your Business the Attention It Deserves
Contact us for an appointment today!